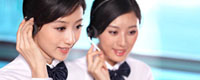 Name: Cassie.Huang
Tel: +86-755-27864416
Fax: +86-755-27864653
Mobile: 15989366182
E-mail: cassie@rxxdisplay.com
Skype: live:cassie_1191
QQ: 2850818618




Company News
>> Merck and General Display Showcase Advances in OLED Technology 2nd,Sep,2019
It is reported that Merck, the world's leading materials company, and Universal Display, which realizes energy-saving display and lighting with Universal PHOLED technology and materials, have announced research and development cooperation in the field of OLED.
According to the agreement, as the two major forces in the OLED field, Merck and Universal Display will make full use of their respective advantages and expertise to accelerate the development of new products and further promote the development of OLED technology.
This collaboration brings together Universal Display's leadership in phosphorescent OLED illuminators and Merck's expertise in the most advanced transmission materials. The goal of the partnership is to develop higher performance OLED stacks for global OLED manufacturers.
Kai Beckmann, CEO and Executive Committee member of Merck, said: "We are very satisfied with this cooperation, because this cooperation will provide the industry with very professional knowledge, which will help us to provide innovative products for our users. Big support. In addition, this new perspective will help us further promote and improve the performance of OLED technology, and OLED technology is also one of the most promising technologies in the display industry."
Steven V. Abramson, President and CEO of GM Display, said: "We are pleased to work with Merck to further expand the brightness, aesthetics and prospects of OLED displays in the field of materials. A complementary, comprehensive portfolio of OLED solutions that delivers better products and services to users and the entire OLED ecosystem."