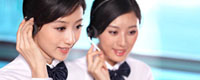 Name: Cassie.Huang
Tel: +86-755-27864416
Fax: +86-755-27864653
Mobile: 15989366182
E-mail: cassie@rxxdisplay.com
Skype: live:cassie_1191
QQ: 2850818618




Company News
>> ROHM introduces new car-grade LED driver ICs to support 12-inch LCD panels 13th,Nov,2019
According to foreign media reports, local time on September 17, Japan's ROHM Semiconductor Corporation (ROHM) announced the launch of the latest LED driver IC - BD81A76EFV-M, can optimize the LCD (liquid crystal display) backlight, mid-range information display in the dashboard And car navigation systems. Unlike traditional 4-channel drivers (supporting 8-inch LCDs), the IC supports 6-channel (120mA per channel) output 10 to 12-inch LCD panels. At the same time, the product uses Rome's unique buck-boost control technology, which is compatible with small and large LEDs with a single drive, so the drive can support both traditional panel designs and the latest large-size displays. It also makes it possible to develop a universal LCD control panel.
In recent years, in the automotive field, more and more LCDs have been used for instrument panels, head-up displays, and car navigation to increase visibility and design flexibility. In addition, the demand for larger screens is also increasing. At the same time, there is an increasing demand for high-brightness LED backlights and LED drivers with multiple channels and more advanced dimming functions to prevent flicker.
To meet the growing market demand, ROHM leverages industry-leading analog design technology and integrates proprietary technology into LED drivers for flicker-free panels and versatile control panel designs. The BD81A76EFV-M also allows designers to use larger LCD panels in automotive applications.