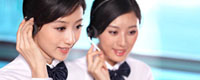 Name: Cassie.Huang
Tel: +86-755-27864416
Fax: +86-755-27864653
Mobile: 15989366182
E-mail: cassie@rxxdisplay.com
Skype: live:cassie_1191
QQ: 2850818618




Company News
>> Apple foldable device patent exposure: has a movable baffle to prevent display creases 4th,March,2020
According to foreign media MacRumors report, Apple this week obtained a patent for a foldable device with a unique hinge design. The hinge mechanism can use a removable bezel to prevent the display screen from creases or damage during folding.
The U.S. Patent and Trademark Office issued the patent today. According to patent documents, this hinge mechanism designed by Apple will ensure sufficient space between the first and second parts of the screen. When the device is unfolded, the movable bezel can extend to cover the screen gap, and it will retract when the device is folded.
There are also many early foldable smartphones, such as Samsung's Galaxy Fold and Huawei's Mate X, but after they are folded more times, the curved part of the display will have obvious creases. Motorola's new foldable phone, the Razr, avoids this problem due to its unique hinge design, but it makes a squeaking noise when it is unfolded or folded.
From this point of view, the foldable smartphone is still in its infancy and has huge room for development. Over the past few years, Apple has indeed held several patents for foldable devices and has shown great interest in foldable designs, but it remains to be seen whether Apple will release foldable devices.