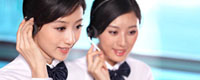 Name: Cassie.Huang
Tel: +86-755-27864416
Fax: +86-755-27864653
Mobile: 15989366182
E-mail: cassie@rxxdisplay.com
Skype: live:cassie_1191
QQ: 2850818618




Company News
>> Domestic panel manufacturers are making efforts in the OLED market, how far are they from the OLED dominance? 4th,Nov,2020
Today's OLED TVs have become a market that TV manufacturers are competing for. In recent years, Skyworth, Changhong, LG, and Sony have expanded their layout in the OLED TV market and launched their own OLED TV products. And behind the fact that domestic and foreign manufacturers have entered OLED TVs, it is inseparable from the rise of a new generation of display technology.
The new generation of display technology that can achieve independent pixel light emission is better than LCD liquid crystal displays in terms of image quality and color, and it has good performance in many aspects such as plasticity, luminous efficiency, and product applications. These excellent performances made the new generation of display technology quickly recognized by the market and became the recognized next-generation mainstream display technology to replace LCD liquid crystal displays. And this substitution trend has become more and more obvious in the past two years.
Therefore, under the background that OLED display technology replaces LCD liquid crystal display technology, domestic panel manufacturers who want to seize market opportunities have made efforts to emerge in the domestic OLED market.
Breaking the monopoly, the rise of domestic OLED
In the OLED display industry, if a panel manufacturer wants to gain a foothold in the market, it needs the support of upstream production equipment. For panel makers, having upstream production equipment is equivalent to mastering the key to OLED display technology, and there is no worries about production.
However, in the development process of the domestic OLED industry, upstream production equipment such as vapor deposition machines and vapor deposition masks have been controlled by Samsung and LG for a long time, making the domestic OLED industry a monopoly. As for how foreign giants monopolize the OLED industry, there is a complicated historical background.
In the early development of OLED display technology, LCD display technology was the mainstream technology at the time. At that time, the entire display industry was not optimistic about OLED display technology. This made Canon Tokki and Hitachi Metals, which focused on OLED upstream equipment manufacturers, plunged into a trough, and was even on the verge of bankruptcy. . Samsung, which has always adhered to the OLED technology route, has brought life to Canon Tokki and Hitachi Metal.
But as a condition, these companies also signed a priority supply agreement with Samsung, and Samsung began to monopolize the OLED industry by controlling the upstream production chain. Relying on the advantages of the industrial chain, Samsung and LG began to develop rapidly in the OLED display field, and soon occupied the global market. According to the IHS Market report, LG and Samsung accounted for more than 92% of the global OLED market, almost monopolizing the entire industry.
However, in recent years, LG and Samsung, which have been in a monopoly position, have begun to encounter challenges from domestic companies. Since 2017, the scale of the domestic OLED market has grown rapidly, and domestic OLED manufacturers have also realized the importance of OLED display technology and have begun in-depth technical research and development in the OLED field. For example, Visionox and Rouyu Technology have tried to overcome upstream production equipment such as vapor deposition machines and vapor deposition masks, and break equipment limitations by developing new technologies.
After a period of technical tackling, Visionox and Rouyu Technology have achieved good results. They have developed OLED panel production technology that does not require an evaporation machine and applied them to electronic products such as smart phones and notebooks. From here, the domestic OLED industry has begun the upward counterattack.
In addition, after the upstream equipment manufacturers such as Hitachi Metals and Canon Tokki signed the agreement with Samsung, these companies also began to restrict the equipment supply to Samsung, and domestic OLED companies have also obtained the opportunity to purchase production equipment. This has promoted the development of BOE, China Star Optoelectronics and other companies in the OLED field.
Under the influence of many factors, the domestic OLED display industry has risen rapidly and has begun to attack the OLED technical barriers constructed by LG and Samsung.
Technical barriers are not unbreakable
In the current domestic OLED display market, LG and Samsung are still mainstream players, while domestic panel companies are emerging challengers.
For example, in the subdivision field of OLED display technology, Samsung has caused a lot of trouble for domestic enterprises in the production of OLED panels because of a technical patent that can simplify the stacking structure of OLED displays. Under the restriction of this patent, domestic panel manufacturers BOE and Visionox must use more complex processes to solve production problems if they want to bypass this process, which in turn increases their production costs to a certain extent.
It is not difficult to see from this that the technical barriers built by Samsung in the OLED field have indeed imposed certain restrictions on the technological research and development of domestic enterprises, and have also made Visionox and BOE take many detours. However, the technical barriers built by Samsung and LG are not unbreakable.
Affected by the changes in the upstream industrial chain of the OLED market and domestic companies breaking through the technological blockade, the technological gap between domestic OLED manufacturers and LG and Samsung has begun to gradually narrow. In terms of technology patents, domestic panel giant BOE has applied for more than 27,000 patents on OLED display screens, gradually surpassing display giant LG.
In addition, panel companies such as Visionox and Rouyu Technology have also gained a foothold in the OLED market by digging into the mobile phone market. According to Qunzhi Consulting data, in 2018, domestic OLED display shipments reached 19.3 million pieces, a year-on-year increase of 97%, while Visionox's supply even reached 8 million pieces, and its market share in the OLED market has rapidly increased. Yu Technology has developed the first foldable OLED mobile phone using OLED technology.
As a result, the rapid development of the domestic OLED display market has begun to threaten the monopoly of Samsung and LG, which is naturally not what Samsung wants to see. However, with the increasing maturity of the domestic OLED industry chain in recent years, the trend of the OLED market has become unstoppable. This means that Samsung and LG will face more severe challenges.
However, in the current OLED market, Samsung and LG are still leading in technology. It takes time for domestic panel makers to catch up.
How far is it from the OLED overlord?
As domestic panel manufacturers are making efforts in the OLED market, BOE, Visionox, Samsung, and LG are becoming more and more gunpowder. In this game, domestic companies have many advantages.
First of all, in terms of OLED display technology, domestic companies such as BOE, Royole Technology, Lensi Technology, Visionox and other companies have put OLED display technology into production as their core technology application, and have built multiple OLED production lines. The accumulation of technology is of great benefit.
The recent cooperation between BOE and Apple can accelerate BOE's accumulation in OLED technology. As we all know, Apple, which has always been strong, often requires very harsh conditions when selecting suppliers. BOE's OLED technology can be recognized by Apple, which shows that its OLED technology strength has been recognized by the industry. And through cooperation with Apple, it can accumulate more experience in the production of OLED panels.
Secondly, domestic companies have also made breakthrough developments in OLED upstream production equipment. For example, Hefei Xinyihua, Zhongshan Kaixuan, and Hefei Ryder have overcome the evaporation machine technology and produced prototypes to provide support for further promoting the development of the domestic OLED industry.
Finally, in the market, domestic OLED companies also have huge advantages. With the rise of OLED display technology in the domestic market, OLED screens have also been applied in mobile phones, notebooks, TVs, smart wearable devices and other fields. These favorable factors have driven the rapid growth of market demand.
According to data from Aowei Cloud Network, the domestic OLED TV market growth rate reached 300% in 2018, and China is expected to become the world's largest OLED TV market in 2020. Backed by such a huge market, the development of the domestic OLED industry will also usher in more opportunities.
Overall, domestic OLED manufacturers have ushered in the best period of technological development. With the help of the market and industry chain, the domestic OLED industry has opened a gap in the technology blockade. It will only take time to catch up with the two overlords of LG and Samsung. According to the BusinessKorea report, this time may be around 5 years.
It can be seen that manufacturers that can lead the OLED market in the future will definitely have a place in domestic OLED manufacturers, including BOE and Visionox. Of course, on this technical road, domestic OLED manufacturers still have some gaps, and then they need to continue to use technology as the foundation to hopefully achieve greater results in market competition.