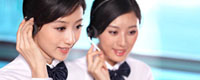 Name: Cassie.Huang
Tel: +86-755-27864416
Fax: +86-755-27864653
Mobile: 15989366182
E-mail: cassie@rxxdisplay.com
Skype: live:cassie_1191
QQ: 2850818618




Company News
>> Samsung and LG both invest in OLEDoS and LEDoS microdisplay technology development 19th,August,2022
According to foreign media reports, Samsung Display (Samsung Display) and LG Display (LG Display) are both developing silicon OLED (OLEDoS) and silicon LED (LEDoS) technologies, these microdisplay technologies are intended to be applied to virtual and augmented reality devices.
A similar technology is liquid crystal on silicon (LCoS), which can create displays about an inch in size from a silicon substrate, unlike conventional displays that use glass substrates. The use of silicon substrates to make displays can achieve ultra-high resolution even if they are small in size.
Currently, Japan's Sony is still the leader in OLEDoS technology, which uses white OLEDs and red, green, and blue filters. Samsung Display plans to provide OLEDoS with a resolution of 3,000 pixels per inch (PPI) and a brightness of 10,000 nits to its parent company Samsung in 2024.
For the LEDoS technology, Samsung Electronics aims to achieve a resolution of 6000-7000 per inch. In contrast, OLEDoS is aimed at virtual reality devices, while LEDoS is aimed at augmented reality devices.
LG Display, which previously developed LEDoS for Apple, has also recently started developing LEDoS technology. The company's OLEDoS is expected to be used in Apple's first mixed reality device next year. Currently, the OLEDoS inside the device is provided by Sony, and the screen on the outside is provided by LG Display.