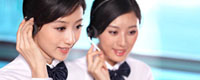 Name: Cassie.Huang
Tel: +86-755-27864416
Fax: +86-755-27864653
Mobile: 15989366182
E-mail: cassie@rxxdisplay.com
Skype: live:cassie_1191
QQ: 2850818618




Company News
>> LGD and SK Hynix will form "MicroOLED Alliance" 25th,August,2022
According to industry sources, LG Display and SK Hynix have decided to cooperate in the development and production of MicroOLED, and the two parties are currently in the final stage of negotiations. Unlike ordinary OLEDs, the pixel size of MicroOLEDs can be as small as tens of micrometers (μm), so it requires extremely precise semiconductor processing technology.
LG Display's cooperation with semiconductor companies such as SK Hynix is necessary for the production of MicroOLEDs because LG Display does not have the production facilities of semiconductor subsidiaries. According to the latest news, the two parties are currently in the final stages of reaching an agreement on the details of the cooperation.
LGD and SK hynix work together to coexist micro OLEDs
According to enterprise business analysis, SK hynix is mainly responsible for wafer design and circuit drawing of products. LG Display is responsible for depositing the OLED on the wafer until the final stage of completion. Their ultimate goal is to provide displays for XR devices to the world's largest tech companies.
Apple plans to launch its first-generation XR device early next year. LG Display will reportedly supply the OLED for the external screen for Apple's first-generation XR device. Meanwhile, Japan's Sony will supply micro OLEDs for Apple's first-generation XR devices.