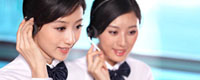 Name: Cassie.Huang
Tel: +86-755-27864416
Fax: +86-755-27864653
Mobile: 15989366182
E-mail: cassie@rxxdisplay.com
Skype: live:cassie_1191
QQ: 2850818618




Company News
>> LCD has not stepped out of the cycle, and the panel group has come to a detour 8th,Sep,2022
Unable to get out of the cycle, panel prices collapsed on schedule
The surge in demand under the epidemic has made panel manufacturers and professionals optimistic for a time that LCD will come out of the cycle. The fact is that blindly expanding factories and insufficient demand, manufacturers lose money and go through the "cold winter" again.
According to Omdia data, in June 2022, the prices of 10.1-inch LCD IT panels used in tablet computers, 14-inch laptops, and 23.8-inch LCD IT panels used in monitors dropped by 4.0%, 8.8%, and 8.8% month-on-month, respectively. 7.8%, down to $24.2, 30.2, and $59.2 per piece.
For TV panels, Omdia expects that the prices of 32-, 43-, 50-, 55-, and 65-inch panels used in TVs will drop further in July 2022, down 6.5%, 5.0%, 1.3%, and 1.3% month-on-month, respectively. 1.1%, 4.5%, down to 29, 57, 75, 91, 127 US dollars / piece. More intuitively, during the 618 period this year, among the Xiaomi large-screen TVs, the 86-inch TVs were less than 6,000 yuan, and the 75-inch TVs were even only 3,000 yuan.
The LCD industry returned to five years ago overnight, in the second half of 2017. At first, due to the global overcapacity of LCD panels, prices continued to decline. Then, the Sino-US trade dispute and the global new crown epidemic made this winter the longest in history. winter.
Until the second half of 2020, the epidemic catalyzed markets such as the home economy and online education, coupled with the stimulus of active fiscal policies in Europe and the United States, driving the terminal to usher in explosive growth. Combining with the changes in the competition pattern of suppliers and the shortage of materials in the upstream of the industrial chain, the supply and demand relationship continued to tighten, and the panel price rose all the way, resulting in the longest LCD panel price increase cycle that lasted for 13 months.
But looking at the development of the panel industry, the logic of overcapacity - panel price reduction - panel factory losses - reducing capacity utilization or closing production lines - insufficient capacity - the trajectory of panel price increases has always been applicable. The fundamental reason for this is that the time it takes to convert investment capacity into supply does not match the time when demand changes.