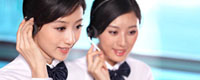 Name: Cassie.Huang
Tel: +86-755-27864416
Fax: +86-755-27864653
Mobile: 15989366182
E-mail: cassie@rxxdisplay.com
Skype: live:cassie_1191
QQ: 2850818618




Company News
>> LG Display will release a 20-inch OLED panel within this year 9th,Oct,2022
According to the Elec, LG Display plans to release a 20-inch OLED panel for personal devices by the end of this year. The news has been confirmed by LG Display.
LG Display Vice President Kang Won-seok recently told a forum hosted by the Korea Display Industry Association that the new panel size model is designed to meet the increased demand for personal displays during the pandemic.
LG Display hasn't commented on mass production plans for its 20-inch OLED panel, so it's unclear whether the panel will be available for displays and laptops in 2023. It also gave no details on resolution or other specifications.
He added that OLED panels for games are being developed for immersive graphics, while OLED panels for traditional TVS are intended to provide natural vision.
Earlier this year, LG Display said it planned to develop 20-inch and 30-inch OLeds for PC games at some point in the future. Demand for gaming OLED panels has also increased during the pandemic, with fast reaction times a top priority, while the company is also working to ensure that the realistic resolution of its panels remains the same even when the surroundings are too bright.
LG Display is also understood to be currently working to acquire a bendable OLED technology and is in talks with a customer to develop it. Kang revealed that the technology allows consumers to control the curvature of the screen based on the games they play. The analysis shows that most consumers prefer a curvature between 800R and 1000R (equivalent to a circle with a radius of 1000mm).
Kang Won-seok also said the company's white OLED technology was the only one capable of providing a bendable screen because it used only one substrate. Though unstated, it was a jab at Samsung Display's quantum dot OLED screen, which uses two glass substrates.
He also said LG Display plans to release a transparent 77-inch OLED screen next year. Currently, LG Display's largest transparent OLED screen is 55 inches.
LG Display is mass-producing small OLED panels for watches and smartphones, as well as large OLED panels for TVS, ranging in size from 42 inches to an upcoming 97 inches. For the consumer market, there is no difference between the two, but that will change in the near future.