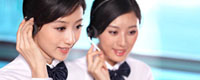 Name: Cassie.Huang
Tel: +86-755-27864416
Fax: +86-755-27864653
Mobile: 15989366182
E-mail: cassie@rxxdisplay.com
Skype: live:cassie_1191
QQ: 2850818618




Company News
>> Omdia: Global shipments of deformable displays will reach 117.7 million units in 2029 7th,June,2023
According to a research report released by Omdia recently, with the advancement of display technologies such as bending radius (BR) and light transmittance (TR), the shipment of defordable displays will reach 22 million units in 2022 and 117.7 million units in 2029, accounting for 2.7% of the flat panel display market.
Omdia defines convertible displays based on bend radius and light transmittance, and divides them into bendable displays, foldable displays, roll-up displays, stretchable displays and transparent displays.
Among them, foldable displays are rapidly proliferating through advanced smartphone applications and are expected to become the most mainstream form of convertible display development by 2029. Specifically, by 2029, shipments of foldable displays will increase to 107.5 million units, accounting for 2.5% of the total flat panel display market, and the compound annual growth rate from 2022 to 2029 will reach 28.0%.
According to Omdia's analysis, organic light-emitting diode (OLED) displays are expected to be the most watched technology in the 2022-2029 period. OLED displays are self-emitting thin-layer structures that are flexible and transparent and can be used to design a variety of deformable displays (such as foldable displays).
"Over the past 20 years, most panel manufacturers have demonstrated or introduced a wide variety of deformable displays," said Jerry Kang, research manager at Omdia, "and OLED displays have proven their versatility across convertible displays, while other display technologies are quite limited in terms of bending radius and transmittance." Liquid crystal displays (LCDS), which are favored in the showcase and freezer market where light sources can be easily embedded, will continue to dominate the transparent display market in terms of shipments."
Today, the slowdown in the shipment growth of deformable displays is mainly due to the limited demand for special purpose products such as foldable smartphones, rollable TVS, and transparent coolers, rather than typical consumer applications such as smartphones, smart watches, and tablets. While this segment will not grow significantly in the near term, innovative form factors can and have expanded the use of displays, as we have seen with flexible displays, which have rapidly penetrated the smartphone display market.