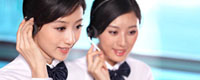 Name: Cassie.Huang
Tel: +86-755-27864416
Fax: +86-755-27864653
Mobile: 15989366182
E-mail: cassie@rxxdisplay.com
Skype: live:cassie_1191
QQ: 2850818618




Company News
>> Window seconds change display LCD display new technology 28th,Mar,2017
Perhaps, in the eyes of most people, the window is the window, use it to look at the outside world. However, the current high-tech or will change the use of the window. Here we will introduce a new window that will turn your home window into an LCD display.
Researchers from the National University of Busan in Korea have made some technological breakthroughs in the field, and they have developed an advanced smart light valve made of liquid crystal that can be made between transparent and opaque Conversion, and conversion speed is very fast.
Most of the transparent displays rely on OLEDs, which are completely transparent when they are closed, but when you turn on the power to turn them on, they become opaque, and this conversion does not reduce the display Quality.