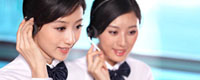 Name: Cassie.Huang
Tel: +86-755-27864416
Fax: +86-755-27864653
Mobile: 15989366182
E-mail: cassie@rxxdisplay.com
Skype: live:cassie_1191
QQ: 2850818618




Company News
>> Samsung, LG upgrade OLED production target alignment NB panel 17th,June,2017
OLED is expected to become the mainstream mobile panel, Samsung display (SD) and LG Display (LGD) are actively expanding production capacity to prepare for the current front has been extended from the phone to the field of notebook.
According to previous media reports, HP laptop has decided to import Samsung OLED panel, Lenovo, Dell Computer also has OLED pen to launch the plan. In addition, Samsung is the main Apple OLED display panel suppliers, can be described as the current mobile OLED mobile panel market, the biggest winner.
LGD Although the layout of the mobile OLED panel later, but also catch up, in addition to grab the millet first OLED panel orders, LGD is also trying to own surface-type OLED screen sales to Huawei. LGD focus on the current 5-inch screen below the product line, but the future will follow the pace of Samsung 10-20 inch market development.