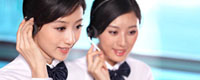 Name: Cassie.Huang
Tel: +86-755-27864416
Fax: +86-755-27864653
Mobile: 15989366182
E-mail: cassie@rxxdisplay.com
Skype: live:cassie_1191
QQ: 2850818618




Company News
>> Hubei LCD panel biggest project 4.5 generation TFT-LCD officially capped 25th,July,2017
Recently, Hubei Province LCD panel industry single investment project - Wuhan Tianma Microelectronics 4.5 generation TFT-LCD (liquid crystal thin film transistor display) and CF (color filter) production line of the main project officially capped, is expected to be the end of this year trial production The
TFT-LCD thin and light, low power consumption, no radiation, image stability, widely used in mobile terminals, digital cameras, automotive displays and other fields. 4.5 TFT-LCD production line is the LCD panel in the small size of the largest size, the lowest cost per unit of new technology.
The total investment of the project is 4 billion yuan. After production, will achieve a monthly display panel 30,000, color filter 90,000, TFT display module 20 million capacity.
TFT-LCD is the current flat-panel display technology in the field of high technology maturity, the market value of a technology. Wuhan Tianma 4.5-generation TFT-LCD project can lead to the production of related industries about 25 billion yuan.