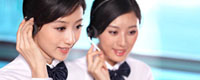 Name: Cassie.Huang
Tel: +86-755-27864416
Fax: +86-755-27864653
Mobile: 15989366182
E-mail: cassie@rxxdisplay.com
Skype: live:cassie_1191
QQ: 2850818618




Company News
>> OLEDWorks released 2016 - 2020 OLED panel technology roadmap 16th,Sep,2017
OLEDWorks has announced the latest panel Brite 2 with a brightness of 300 lumens, a high CRI (> 90) with an efficiency of 60 lm / w According to the company's road map, OLEDWorks aims to release 80-100 lm / W elastic panel next year.
OLEDWorks Technology Roadmap 2016-2020
By 2020, OLEDWorks panels will have more than 100 lm / W efficiency, with a service life of more than 50,000 hours (LT70).
OLEDWorks was founded in July 2010, by the Kodak OLED business experts to develop proprietary low-cost production process. In April 2015, OLEDWorks acquired Philips' IP and production facilities in Aachen. Is currently producing panels in the US (low-capacity amber lighting) and Germany (the larger Lumiblade panel).