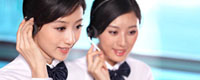 Name: Cassie.Huang
Tel: +86-755-27864416
Fax: +86-755-27864653
Mobile: 15989366182
E-mail: cassie@rxxdisplay.com
Skype: live:cassie_1191
QQ: 2850818618




Company News
>> iPhone if the use of OLED panels will promote the development of the entire industry 22th,Sep,2017
Although the current market usage of AMOLED display panel is still not as good as LTPS LCD, but IHS that by 2020, OLED will be developed into the highest utilization of smart phone display panel technology.
Last year, OLED panel market share of 20%, and by 2020 IHS that the market more than 40% of smart phones will use OLED display panel. The main reason for HIS to make such a prediction is from the beginning of next year, Apple will use the OLED panel on the iPhone, and including Facetime and speakers and other components can be hidden into the OLED panel.
And once Apple began to enter the OLED market, it will undoubtedly have a significant impact on the overall market structure, and whether it is the technical threshold or cost, R & D process will be further changed.
iPhone if the use of OLED panels will promote the development of the entire industry
Apple currently only use the OLED Watch on the Apple Watch, and once used on the iPhone, IHS that will become the milestone in the entire OLED industry moment.
So far, all the iPhone is using a common LCD panel, and LCD panel has the advantage of long service life, and high brightness. The OLED panel as a result of each pixel can be self-luminous, so when the black display without backlighting, so to provide a more pure black effect, and more power. In addition, OLED in the flexibility to be better.
Apple's use of OLED watch on the Apple Watch, mainly because Apple Watch interface background to black-based, and the ability to endurance requirements are relatively high. And in the next iOS 10 system, it seems that will also add a "black theme", which also cater to the 2017 iPhone will use OLED panel argument.