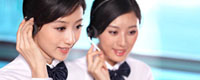 Name: Cassie.Huang
Tel: +86-755-27864416
Fax: +86-755-27864653
Mobile: 15989366182
E-mail: cassie@rxxdisplay.com
Skype: live:cassie_1191
QQ: 2850818618




Company News
>> Samsung to stop the production of small and medium-sized OLED panels 2nd,Nov,2017
Samsung Display (Samsung Display) has a transparent OLED as a new generation of display strategy products, but after the assessment, it seems that because of short-term market development is not good, recently came to stop mass production, the future production line will be converted to production of small and medium size OLED panel.
According to the Korean media MoneyToday reported that rumors Samsung monitors recently decided to stop mass production of transparent OLED display, by the end of 2016, will be South Korea's Asan factory transparent OLED display line (V1), all to produce small and medium size OLED panel.
Samsung's first transparent OLED display is June 2015, at the Hong Kong International Convention Center at the Asian Retail Expo (Retail Asia Expo), show the world's first 55-inch transparent display. With a 45% transmittance, Full HD high resolution, and close to 100% color gamut, good reviews of similar glass are obtained.
After that, Samsung also actively introduced its own transparent display at the International Furniture Fair (IFA 2015) and the International Information Display (IMID 2015) in September and October 2015, respectively, and said it would officially enter the commercialization in 2016 Stage; store glass window, car glass, home appliances, etc. are potential market demand object.
January 2016 Samsung selected in BMW Korea Incheon flagship store, installed six 55-inch transparent display, the formation of a total of 152-inch large transparent OLED display video wall, revealed that Samsung has been actively want to transparent display Raiders shopping malls and other display space The attempt.
South Korea industry stakeholders said it seems not yet to transparent display as a store infrastructure planning stage. So Samsung decided to stop mass production of transparent OLED one of the reasons, it is likely that Samsung to consider the current market is not good, the time is still not mature yet. In addition, due to Samsung's face of Apple (Apple) and the mainland smart phone industry, small and medium size OLED panel demand surge, but also to tighten the demand for production lines.
Samsung display stakeholders said that the scale of transparent OLED business is too small, it may not be called mass production disruption, the future company will continue to develop a new generation of display products.