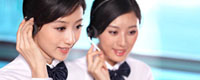 Name: Cassie.Huang
Tel: +86-755-27864416
Fax: +86-755-27864653
Mobile: 15989366182
E-mail: cassie@rxxdisplay.com
Skype: live:cassie_1191
QQ: 2850818618




Company News
>> Apple's new mobile phone using OLED panel market Tim ecological variables 8th,Nov,2017
Apple's next-generation handsets are expected to adopt organic light-emitting diode (OLED) panels. According to market research institutes, in addition to the mass production of Samsung OLED displays, other manufacturers are currently not mass-produced, and now talk about who supplies, in fact, variables Still more.
Chen Jian-hua, a market analyst at IDC, points out that currently only Samsung monitors in mass-produced handset OLED panels in the global panel market are the only ones that mass-produce OLED TV panels.
Although other panel makers have already set out to build OLED panel production lines in order to win orders for a new generation of mobile phone OLED panels from Apple, the earliest production volume of 1 to 2 years is still possible. Whether the quality meets the demand of Apple still needs to be observed.
Chen Jian-aid said that Samsung OLED mobile phone panels have been put into the market for many years, so other panel makers OLED panels to be favored by Apple. The first is the quality to keep up with Samsung.
He analyzed the current technology, OLED panels below 15-inch low-temperature polysilicon (LTPS) panel when the backplane, and then deposited on the organic material, the yield is higher, but greater than 15-inch OLED panel using indium gallium oxide Zinc (IGZO) panel when the backplane, plated with organic materials, higher yield.
He explained that small-size OLED panel adopt red, green and blue (RGB) 3-color organic materials, there is no problem in technology, but large-size OLED panels can not adopt 3-color evaporation at present. With color filter (CF) to color.
He bluntly, Apple's procurement of components have 2-3 suppliers, a new generation of mobile phone OLED panel suppliers, initially should be to find the mass production of OLED mobile phone panel Samsung supply, is a simple trading; the second stage is the other supply OLED panel production line manufacturers, Apple together with the development of the required OLED panel, but now talk about quality, yield is too early to say.
He admitted that even if more than one year, two years after the panel makers outside Samsung Samsung OLED cell phone production panel, but the quality can keep up with the Samsung is still unknown, Apple in the case of quality requirements, it is impossible to rashly adopt.