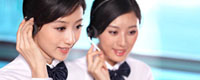 Name: Cassie.Huang
Tel: +86-755-27864416
Fax: +86-755-27864653
Mobile: 15989366182
E-mail: cassie@rxxdisplay.com
Skype: live:cassie_1191
QQ: 2850818618




Company News
>> Toshiba to enhance Taiwan's foundry OEM LCD TV volume in 2010 over 6.5 million units 27th,Jan,2018
Toshiba Corp. (6502-JP; Toshiba) plans to increase the number of Taiwan-based LCD TV makers commissioned by the electronics maker. It is estimated that by 2010, it will exceed 6.5 million, about three times that of the current fiscal year.
In order to achieve the above goal, Toshiba will increase Taiwan's number of EMS (Electronic Manufacturing Services) companies. In addition to commissioning Compal (2324-TW order) production, but also with another company signed a foundry service.
Toshiba also increases the number of outsourced sales to North America and Europe and will start selling Taiwanese products assembled in Southeast Asia by the end of this year's sales season.
This year (until March next year), Toshiba expects the global LCD TV sales of more than 750 million units, outsourcing OEM sales accounted for about 30% of the overall sales. The company set its sales target for 2010 at 13 million units, by which time Taiwan's OEM volume will be more than half.
Toshiba in Dalian, China and Saitama in Japan and other places of the five factories will be maintained at the existing 1 year 6 million units, large-size products is its main force.
In addition, Toshiba will consolidate its LCD panel procurement operations for TVs and notebooks to reduce costs.
Since the core semiconductor of LCD TV is still produced by Toshiba, the products are expected to be segregated from their peers even with an increased outsourcing ratio.