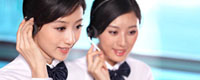 Name: Cassie.Huang
Tel: +86-755-27864416
Fax: +86-755-27864653
Mobile: 15989366182
E-mail: cassie@rxxdisplay.com
Skype: live:cassie_1191
QQ: 2850818618




Company News
>> LCD driver IC: Taiwan manufacturers dominate 5th,March,2018
Overall, Taiwan's LCD driver IC market has entered a mature stage, the industrial ecology tends to be stable. At present, there are only five TFT LCD panel makers in Taiwan, and LCD driver IC manufacturers are also gradually reduced from the early dozens to the current five to six, with the formation of Erlong (Lian Yong, Qi Jing) Three tigers (Xu Yao, Si Chuang, Ruiding) coexist situation. Looking globally, with the Japanese and South Korean manufacturers due to meager profits and gradually withdraw from the LCD driver IC market apparently has been dominated by Taiwan manufacturers. However, the competition among the manufacturers in Taiwan is still fierce and the competition for the survival of the fittest is still quite fierce. Therefore, the rivalries are fully developed to develop new technologies. For now, the performance of the small size LCD driver IC is obviously better than that of the large size, Frequent performance.
Small size LCD driver dazzling performance
Siliconic Electronics, one of the "Three Little Tigers," said that as the overall market situation, with the changes in panel supply and demand, although large-size LCD driver IC market performance is poor, but since the small size LCD driver IC since July Out of a good situation. Silicon-based LCD driver IC is mainly used in small-size areas, such as mobile phones and portable consumer electronics devices, including TFT, STN and TN LCD, etc., the company's LCD driver, said Qian Jinwei, vice president, is quite optimistic Six months of revenue performance, and estimated CSTN (Color STN) driver IC will account for the total LCD driver IC shipments in 2008, Liu Cheng.
In fact, the difference between TFT LCD driver ICs and shipments from many other Taiwanese counterparts is that SiS has a very impressive performance in MSTN (Mono STN) and CSTN markets. Qian Jinwei pointed out that although the TFT LCD driver IC is a hot topic in the industry, its profit margins are rather limited. In contrast, CSTN and MSTN have more profit margins and fewer competitors, thus enabling manufacturers to have greater play space.
He further pointed out that although there is research firm data that in 2007 MSTN in the overall LCD application market share of only 10.99%, but the fact is not the case. In 2007, MSTN driver IC supplied to a customer in Nokia only shipped between 1 million and 18 million pieces of MSTN. Its annual shipments were as high as 140 million pieces. Worldwide shipments of handsets in 2007 were estimated at 1.1 billion units. Among these, only the part produced by Nokia, Silicon Valley accounted for about 140 million, more than 11%.
Not to mention in addition to Nokia, as well as Sony Ericsson, LG, Motorola, Samsung and other major manufacturers of mobile phones. From the above data shows that the amount of black and white machine is obviously much larger than 10.99%, CSTN is the same situation. In fact, in emerging markets such as the Third World, there is a huge demand for black-and-white machines and color-screen handsets.
Improve LCD performance, new technologies appear frequently
Silicon Electronics is committed to developing various technologies to improve LCD display performance, especially from the environmental point of view, but also strongly promote the development of green energy-saving drive, which includes a variety of innovative technologies, such as low temperature power-saving technology. In the past, the traditional driver IC consumes more power when the temperature is lower, mainly because the liquid crystal itself will increase the viscosity of the liquid crystal at a low temperature. In this case, the liquid crystal needs a higher voltage drive to achieve the same display effect, So power consumption will increase. Silicon built in green energy-saving driver IC built-in temperature sensor, so that you can keep abreast of the current operating temperature, and further for different temperatures for analog circuit adjustment, so Si Chuang green energy-driven low-temperature work Instead, consumption is less. In addition, Silicon has developed a variety of related technologies such as reducing components, reducing power consumption, improving consistency and displaying quality. And with the advantages of power-saving dynamic backlight control technology LABC and CABC are all the emphasis on a key focus of silicon technology.
In addition, Silicon continues to improve TN product quality, the company introduced Palette Driver technology allows TN without color filter can show the color effect, Qian Jinwei said that this technology for the TN development into a new life is expected to drive An application wave.
As one of the three tigers with Silicon Innovation Technology Co., Ltd. is one of Taiwan's LCD driver IC industry in the third-ranked manufacturer, the company's mobile phone manufacturers in the world and the mainland white-white phone support, as well as LCD panel makers Under the auspices of AU Optronics and Uni-President, the recent dazzling transcripts have been frequently paid. Asahi currently produced LCD driver IC includes TFT and STN two parts, mainly used in mobile phones, accounting for the overall LCD driver IC sales Yao Xu about 40%, of which TFT-based, accounting for the overall mobile phone LCD driver IC Jiucheng.
TFT driver IC prices fell rapidly
Asahi is Taiwan's early cut into the field of TFT LCD driver IC manufacturers, from large size all the way into the small size, the price fluctuations have a more profound feeling.
Zhuang Dachang, executive vice president of Asias Technology, used mobile TFT LCD driver ICs as an example to point out that in 2003 the unit price was as high as $ 5. In 2004, with Taiwan manufacturers entering the market, the price dropped to $ 2 by the end of that year. Today, TFT LCD driver IC prices have dropped to the first 20%, the relevant manufacturers in the period under the rigorous test shown. However, Chuang Tat Cheong further said that the trend of price decline will slow down and is expected to be staged in early 2009 a knockout.
In the harsh competition, high integration has long been the prerequisite for LCD driver IC manufacturers. In the case of portable video devices, the source driver, gate driver, timing controller (TCON), and power supply must be integrated into one, making mobile communication devices more difficult because of memory integration issues and the need to communicate with different basebands Interface Communication Technology. Zhuang Dachang pointed out that in addition to the degree of integration, thanks to the cooperation with TSMC, UMC and the world's most advanced foundries and other manufacturers, using its advanced technology, Xu Yao solution can achieve a very small size. In addition, Asus LCD driver IC solutions in the anti-electromagnetic radiation interference also has a good performance.
Integrated touch panel is the focus of the next generation of development
Looking forward to the development of new technologies in mobile phone products, the response speed of small size LCD panels needs to be accelerated due to the fact that mobile phones start to have the function of watching TV. Therefore, Overdrive technology that is generally applied to large-size LCD TVs needs to be adopted. Yao this product the current monthly shipments have reached around one million. Moreover, the color correction technology, which is mainly used to improve the color temperature drift, has also become a functional technology that needs to be integrated for small-size TFT LCD driver ICs. In addition, such as more power-saving dynamic backlight control technology and emphasis on comfortable LABC technology, are also small-size mobile phone with the new development of LCD driver IC.
Another notable trend is the combination of touch panel and LCD panel challenges for LCD driver ICs, where issues of mutual interference, signal acquisition, and associated image processing are all issues to be solved , Zhuang Dachang believes that the next three years will be the key to the development of this technology, the current Xu Yao has been brewing next-generation technology competitive strength.
Medium-size panel applications emphasize single-chip power efficiency
The main products of SiChina and Asahi are all small-size LCD driver ICs, while the main products of UJI and Wondersu are mainly large and medium size LCD driver ICs. The latest generation of a-Si TFT LCD panel single-chip driver ICs introduced in May is mainly used in GPS satellite navigation and PMP. Through this single integrated gate driver, source driver, timing controller and power management function Chip, customers will be able to reduce costs by reducing the size of the module.
Wonder King further emphasized that the launch of the code-named HX8257 single chip is the world's first integrated dynamic backlight control and supports Wide QVGA (480RGB × 272 and 480RGB × 240) wide-screen resolution single-chip driver IC. The HX8257 uses segmented channel-driven technology to successfully integrate functions such as gate driver, source driver, timing controller, and power management so that a mid-size panel of about 4,5 inches can also be driven by a single chip.
It is understood that with the recent GPS satellite navigation and PMP and other medium-size panel applications more and more popular, coupled with the ability to display more information, wide-screen design has begun to be panel and module manufacturers are widely used, 4.3 inch, 4.8 inch Or 5-inch wide-screen design products have been more and more, but compared to the past must be a gate driver IC and two source driver IC, the overall cost of the module is relatively high, while the latest King Wonk HX8257 single The chip just can solve this problem.
In addition, the HX8257 also incorporates dynamic backlight control technology to automatically analyze the screen content presented on the panel for up to 50% battery life with dynamically adjusted backlight brightness for different contents. , And can maintain the contrast and vividness of the screen at the same time.
Large size driver IC manufacturers get into small and medium size, the industry is facing reshuffle
According to statistics, the global LCD TV market this year have the opportunity to reach 100 million units, the global sales of mobile phones will reach 1.2 billion or more, a difference of more than ten times, with a large number of popular low-cost computers 10 inches below the screen, Small and medium size panel market explosive future strong. As a result, Lian Yong and Qi Jing Optoelectronics, which originally focused on the large-size panel market, are also aggressively marching into the small and medium size field. From this point of view, Taiwan's LCD driver IC industry is bound to produce a change in the ecology, 2009 will be a crucial year.