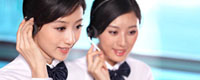 Name: Cassie.Huang
Tel: +86-755-27864416
Fax: +86-755-27864653
Mobile: 15989366182
E-mail: cassie@rxxdisplay.com
Skype: live:cassie_1191
QQ: 2850818618




Company News
>> In 2018, 10 kinds of AI-based OLED TVs will be introduced 9th,Apr,2018
According to the report of Korean media "ETNEWS", South Korean TV giant LG will launch an OLED TV with an AI architecture. This series of OLED TVs with built-in AI architecture is expected to introduce 10 models in 2018. Due to the decrease in price compared to previous OLED TVs and the availability of an AI framework, the market is expected to receive attention after its launch.
The report pointed out that the OLED TV with AI architecture in this series adopts Alpha 9 smart processor developed by LG. Its CPU and GPU computing capacity is 35% higher than the previous processor, and is equipped with 4-step noise suppression and "advanced mapping". "(Advanced Mapping) and improved color correction algorithms have made the picture's clarity, color, and gradient levels better than ever."
In 2018, 10 kinds of AI-based OLED TVs will be introduced
In addition, in addition to the control of color and picture quality, the performance of the Alpha 9 smart processor is better. On the user interface, you can also use Alpha 9 smart processor to use natural language speech recognition to control the volume, change the channel, reserve broadcast viewing, reserve a TV off, and change the movie viewing mode (such as movies, sports, games, etc.) ), can provide the best viewing quality and sound effects for the movie type; even through the microphone built on the remote control, speak the name of the TV station and program for search on demand, and used to reserve programs and query actor information.
It is understood that LG will launch 10 new models with AI-based OLED TVs, which will be divided into 3 sizes: 55-inch, 65-inch and 77-inch. It is estimated that the price of a 55-inch model will be 3 million won (about 18,000 yuan). And because the Hon Hai Group's Sharp is also developing TVs with built-in AI architecture and sales. Therefore, it is expected that the future of LG's products will attract market attention after its launch.