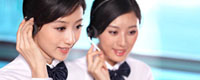 Name: Cassie.Huang
Tel: +86-755-27864416
Fax: +86-755-27864653
Mobile: 15989366182
E-mail: cassie@rxxdisplay.com
Skype: live:cassie_1191
QQ: 2850818618




Company News
>> Quantum dots or OLED? Don't worry, it's not difficult to choose TV 10th,May,2018
Consumers must first consider the quality of their TVs when they purchase TVs. However, it is common for them to face a variety of TV categories such as liquid crystals, OLEDs, laser televisions, and quantum dots. But in reality, it is not difficult to choose television.
At present, there are four major types of display technologies in the color TV market: LCDs, OLEDs, laser televisions, and quantum dots. Among them, the highest market coverage rate is for LCD TVs. In the early 1970s, Japan's Sharp manufactured the world's first LCD TV. Until now, LCD technology has become very mature, and the market is becoming saturated, not worth mentioning.
Laser TVs are also not new anymore. In the 1990s, they started to take shape. However, only in 2014 did domestic manufacturers enter the market and there was a large-scale market explosion. Its principle is the laser beam projection imaging, the use of semiconductor-pumped solid-state laser, generating three wavelengths of RGB laser light source, through the television signal control three-color laser scanning images. The advantage is that it can be projected onto the surface of various materials, the screen size is controllable, the color is bright, the brightness and safety are high (not harmful to the naked eye).
According to the data released by Aowei Cloud Network, the sales volume of laser TV market reached 67,000 units in 2017, with sales of 2.08 billion yuan, achieving growth rates of 116% and 109%. It can be said that laser television is a dark horse in the industry. With the steady increase in other TV categories, laser TV has emerged at an unprecedented rate, and the growth rate is significant. However, it is still a niche market and it is not well-known to the general public.
For the future of color TV industry, there is almost a consensus in the industry that LCD TVs will eventually be replaced, either OLEDs or quantum dots. These two types have different advantages and are difficult to compare. The OLED camp is led by Skyworth and LG. It has the characteristics of self-luminescence. It features pure black, high color gamut, high contrast, fast response, and low power consumption. However, due to the high cost of OLED technology, its price is almost several times that of LCD TVs, so OLED is mainly aimed at the high-end color TV market. In recent years, it has also prompted the color TV industry to shift to high-end quality products.
Although consumers tend to prefer higher quality products and increase psychological prices when buying home appliances, this does not mean unconditional "pay for orders." The overall high price is also one of the major obstacles for OLED TVs to increase market coverage.
Although QDs appeared two years later than OLEDs, they later formed another big camp with Samsung and TCL. Compared with OLEDs, Quantum Dots overcomes the shortcomings of its short life, high cost, and more "grounded gas." This is the reason why QD TV sales in China can be 10 times that of OLED TVs in 2017. It is estimated that by the end of 2018, quantum dot TV sales will be 1 million more than OLED TVs (GfK data).
The company that launched the first quantum dot TV in China is TCL. After years of deployment, it has a large number of patents and a complete ecological chain in the field of quantum dot technology research. Has successively developed and researched QD tube, QDFilm, QD in LED, QD Glass and other quantum dot technology, and its quantum dot TV products won the "IFA Quantum Dot Technology Gold Award" three times, and won the championship of China's market sales for 16 consecutive weeks. . The quantum dot camp can grow up in a short period of time against the standard OLED camp, TCL contributed.
As a leader in Quantum TV, TCL is quite a favorite. The new X5 color quantum dot TV released this spring has a high color gamut, color gamut coverage of 157%; pure color, increased color purity of 58.3%; long color, color persistence of up to 60,000 hours of features. Coupled with Dolby Vision HDR, Q picture quality engine, Harman Kardon audio, Dolby Sound and other technology support, allowing it to stand out in many quantum dot-TVs. In terms of appearance, TCL X5 also achieved the perfect combination of technological sense and artistic sense. The newly upgraded curved surface full screen, floating aerial base design and ultra-thin body of 4.9mm bring a sense of smart fashion.
At present, QD TVs have been promoted by big companies such as Samsung and TCL, and sales are leading all the way. They firmly occupy the top spot of high-end televisions and are almost the first choice for most consumers. But the future is changing rapidly. Once the OLED camp solves the technical and cost issues, large-scale outbreaks are also possible.