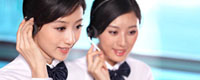 Name: Cassie.Huang
Tel: +86-755-27864416
Fax: +86-755-27864653
Mobile: 15989366182
E-mail: cassie@rxxdisplay.com
Skype: live:cassie_1191
QQ: 2850818618




Company News
>> LCD production capacity is not enough Beijing Oriental layout OLED production line 18th,Feb,2017
As the technology matures, organic light-emitting diode (OLED) panels are increasingly valued, the next generation iPhone will use OLED screen more detonated this wave OLED panel expansion tide, in addition to the early in the OLED cloth under the heavy two Korean plants, there Rich dad blessing the same intention to compete for Sharp, and in recent years the rise of the mainland panel factory, in addition to open LCD production capacity, OLED did not intend to let go, actively invest in AMOLED production line.
Mainland plant not only open 10.5, 11 generation of high-generation TFT-LCD production line, emerging OLED technology also did not want to let go. China's main panel factory layout OLED mainly active organic light-emitting diode (AMOLED) -based, panel maker Ogata 30 evening announcement, 28 has been the second largest city of Mianyang City, Sichuan signed "the sixth generation of flexible AMOLED production line project Investment framework agreement ", will set up a company in Mianyang City, according to the announcement, the registered capital will be 26 billion yuan, the official expected the latest in 2017 will be officially started in the second quarter, and formally put into operation in 2019, the initial plan will lock high Medium and small size flexible AMOLED product applications.
BOE in the AMOLED layout is not only this pile, announced in February this year, Chengdu 6-generation line plant two project contract, estimated total investment of 46.5 billion yuan for the BOE Group history to the largest investment, the official expected a period, two successive In 2017 and 2018 in the second quarter of production, aimed at flexible AMOLED small and medium size panels, the final total capacity of up to 48,000 per month glass substrate, and strive to apply to high-end smart phones and wear devices.
BOE Erdos 2011 new 5.5 production lines, the original AMOLED capacity configuration for the 0.4 million, but as of June this year came the small batch production of hard AMOLED panel, the development can be said to go slowly. Plus two lines on behalf of Chengdu 6, Mianyang 6 on behalf of a line, the future of Beijing Oriental OLED production line may look at four.
The mainland earlier put AMOLED and glow electricity, in 2014 has begun mass production of hard AMOLED, as early as a small number of Korean factories to break the monopoly of the successful production of AMOLED panel manufacturers, and Shanghai 4.5 on behalf of the line factory AMOLED monthly production capacity of about 15,000 glass substrate , And plans to move into the Shanghai plant into the flexible AMOLED panel production, production capacity is expected in the second quarter of 2017 out, in September this year and Hui also announced that it took 27.278 billion yuan to build 6-generation AMOLED plant, scheduled by the end of 2018 trial Production, 2019 production, planning to produce 30,000 glass substrate, also aimed at small and medium size panels.
Han factory layout far, Sharp strive to break through
Compared to the beginning of the mainland plant, South Korea's Samsung Display, LG Display two manufacturers layout ten years before the successful production of flexible OLED panel, build a solid technical barriers, Samsung is currently in the small and medium-sized OLED panel market up to More than Jiucheng, Samsung and LGD to actively expand production, and even the most difficult to produce OLED manufacturing process equipment, Samsung has long been almost exclusive equipment manufacturers Canon Tokki package under a large number of orders, it is learned that an OLED key splash The machine has only three or four annual production.
Hewlett-Packard has announced that it will invest a total of 200 billion yen in the development of OLED panel business in March this year, and in September Japan Osaka Sakai factory, Sanqian multi-qi-cho factory set up a number of OLED panel trial production line.
Compared to Japan, South Korea, mainland manufacturers competing layout, Taiwan's OLED development pace is much slower, even if AUO is also early OLED production front section of the panel factory, concentrated firepower in small and medium size boutique market, take circular cutting differentiated routes, and It is expected to produce flexible AMOLED in 2017, but the production capacity is still small, and there is no large-scale OLED investment plan.