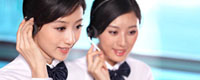 Name: Cassie.Huang
Tel: +86-755-27864416
Fax: +86-755-27864653
Mobile: 15989366182
E-mail: cassie@rxxdisplay.com
Skype: live:cassie_1191
QQ: 2850818618




Company News
>> New 8K OLED display for tablets and laptops 25th,Dec,2018
Japan's technology developer Semiconductor Energy Laboratory (SEL) developed the industry's first 8.3 and 13.3-inch OLED displays that support 8K resolution. These new products from the lab use crystalline oxide semiconductor technology, which may be a preliminary design for future commercial products. The company also recently demonstrated a flexible 8.6-inch OLED panel for folding tablets or smart phones. Mobile phone.
The SEL's OLED panels are all 7680 x 4320 resolution, and the color filters used rely on CAAC-IGZO (C-axis aligned crystalline indium gallium zinc oxide) materials. The 8.3-inch 8K panel has a fairly high pixel density of 1061 pixels per inch with a refresh rate of 60 Hz.
The larger 13.3-inch 8K panel has a pixel density of 662 PPI, but a refresh rate of 120 Hz, which is quite high for OLEDs.
Last month the company demonstrated the 8.3-inch 8Kp60 OLED at SEMICON Japan, while the 13.3-inch 8Kp120 OLED is currently only available in SEL's lab.
The resolution of the 8.3-inch display is 1062 PPI. In contrast, Sony's Z5 Premium, which is currently available, features a 5.5-inch display and 4K resolution with a resolution of 801 PPI. The 6.5-inch 8K will be as high as 1355 PPI, so power consumption can be quite awkward.
Other notable advances in SEL include the collapsible 8.6-inch OLED panel, 1920 x 1200 resolution, 10,000 bend cycles (27.4 per day per year), and OLED panels capable of displaying BT.2020 color space.
The main focus of the Semiconductor Energy Lab is to develop crystalline oxide semiconductor technologies for a variety of applications, including chips and displays. CAAC-IGZO is considered to be one of the next generation materials supporting high-resolution, low-power displays, so SEL is working on its practical applications. As an intellectual property licensing company, SEL does not have its own production capacity, so partners are required to implement CAAC-IGZO-based 8K OLED.