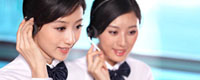 Name: Cassie.Huang
Tel: +86-755-27864416
Fax: +86-755-27864653
Mobile: 15989366182
E-mail: cassie@rxxdisplay.com
Skype: live:cassie_1191
QQ: 2850818618




Company News
>> Automotive OLED panels are expected to take off in 2020 8th,Jan,2019
Automotive OLED panels are expected to take off in 2020? Some Mercedes-Benz models will be adopted in 2020, which is expected to set off a wave of automotive OLED panels.
Korean media BusinessKorea reported on the 21st, the car industry revealed that Mercedes-Benz E-Class models in the first half of 2020, plans to carry the automotive OLED panel produced by the Korean company LG Display (LGD). In the future, the Mercedes-Benz S-Class and E-Class models will have an OLED wide screen. This type of screen also has the functions of an instrument panel and a central display. It is expected that Mercedes-Benz is the first car manufacturer to carry an OLED panel in a consumer car.
Car dashboards need to display more and more information, and the demand for high-resolution large screens is increasing. At present, Volvo, Land Rover, and Tesla's in-car displays are as big as iPads. Moreover, in the future, autonomous vehicles will become mainstream, drivers and passengers will have more time to use the car infotainment system, and it is also advantageous for car OLEDs. According to industry sources, the contrast brightness of OLED images is better than that of liquid crystal (LCD), and the interior environment is dim, which is more suitable for OLED.
The outside world also predicts that the automotive OLED market will increase significantly in 2020. Ubi Research estimates that the size of the interior panel will increase from 6.7 inches in 2018 to 8.3 inches in 2018; automotive OLEDs will grow at a rate of 497% per year, and the market size will increase from $4 million to $5.023 billion. In 2022, the proportion of automotive LCD panels is still 90%, but the sales of automotive OLEDs will increase, accounting for 20.2% of total OLED sales.