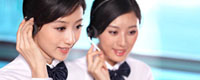 Name: Cassie.Huang
Tel: +86-755-27864416
Fax: +86-755-27864653
Mobile: 15989366182
E-mail: cassie@rxxdisplay.com
Skype: live:cassie_1191
QQ: 2850818618




Company News
>> Domestic listed company OLED China patent application status 8th,March,2019
OLED (Organic Light-Emitting Diode) has excellent performance such as ultra-thin, high brightness, wide viewing angle, self-illumination, low power consumption, low cost, flexibility and normal operation under low temperature conditions. It is praised by the industry as the most developed after LCD. The next generation of displays in the foreground. The principle of OLED is to recombine and generate luminescence by injecting an organic semiconductor film into a positive carrier.
At present, there are many companies competing in the OLED market, among which the more competitive companies are mainly Samsung and LG in Korea, Seiko Epson and Idemitsu in Japan, AU Optronics in Taiwan, Philips and Cambridge in Europe. Technology companies and Eastman Kodak in the United States. Since 2000, these manufacturers have submitted a large number of patent applications in China, and have carried out large-scale patent distribution. With the rapid development of China's economy and the continuous improvement of scientific research strength, the capital market has continued to develop, and many OLED R&D institutions and manufacturers have emerged among domestic listed companies. Among them, Shenzhen Ocean King Lighting Technology Co., Ltd. Ocean King), BOE Technology Group (hereinafter referred to as BOE) and so on.
This paper aims to analyze the patent applications of major applicants in the OLED field published in China's patent search database before April 15, 2015 to understand the status of domestic listed companies' OLED China patent applications. This paper analyzes listed companies or their holding companies involved in the development and production of OLED devices, excluding listed companies involved in the OLED upstream industry. In view of the fact that a large number of patent applications have not reached the 18-month public date, the 2014 application volume data calculated in this paper is less than the actual application volume data.
Patent applications are gradually increasing
The author found through search that as of December 30, 2008, among the top ten applicants of OLED companies in China, except for Philips, which is a European company, the rest are Japanese, Korean, and Chinese Taiwanese companies. None of them are mainland Chinese companies. It can be seen that Korean and Japanese companies are highly competitive in the field of OLED.
As can be seen from Figure 1, as of April 15, 2015, although Korean and Japanese companies still occupy a considerable share, there are already two companies in mainland China who are among the top ten applicants. The two companies are Ocean King and BOE. It can be seen that domestic listed companies have accelerated the layout of OLED China patent applications.
As can be seen from Figure 2, among the domestic listed companies, the largest number of patent applications is Ocean King, reaching 2,159, almost twice the number of BOE, and the number of applications in China is second only to Samsung (see photo). 1). Ocean King is a company specializing in special lighting, dedicated to the application of OLED in special lighting, so the company invested heavily in OLED research and development and lighting applications, and submitted the first OLED patent application in 2008. In the past 6 years, Ocean King has made new breakthroughs in R&D in the field of OLEDs. On November 4, 2014, it successfully entered the small and medium-sized board of Shenzhen Stock Exchange. The number of patent applications involving OLEDs submitted by the company from 2011 to 2013 It has reached 2,130 pieces.
The second-ranked BOE is in 2001 after the A-share listing, relying on the strong economic strength of the capital market, and constantly investing heavily in research and development. Since the submission of the first patent application for OLED in 2002, in the following ten years, the number of patent applications has exceeded 1,000 in one fell swoop, and in the past five years, BOE's patent applications have been on the rise. The number of patent applications that have been published in 2014 has reached 477.
The established company, Shentianma Microelectronics Co., Ltd. (hereinafter referred to as Shentianma), which was listed in the 1990s, submitted its first patent application in 2009, and has gradually increased since then, with a total of 147. Rainbow Display Devices Co., Ltd., which was also listed in the 1990s, filed a patent application earlier than Shen Tianma. It submitted 8 in 2007 and reached a peak of 46 in 2010, but then slightly reduced, but the total Also reached 121 pieces.
Founded in 2008, Sichuan Hongshi Display Technology Co., Ltd. (hereinafter referred to as Sichuan Hongshi) and 2009 Huaxing Optoelectronic Technology Co., Ltd. (hereinafter referred to as Huaxing Optoelectronics Co., Ltd.) are not listed companies, but their controlling parties belong to Sichuan Changhong and TCL Group. The number of OLED patent applications submitted by the two companies is no different, 227 pieces of Sichuan Hongshi and 228 pieces of Huaxing Optoelectronics. Huaxing Optoelectronics has filed an OLED patent application since 2008, and due to the weak and unstable R&D capability in the initial stage, there was no significant improvement between 2008 and 2011, and there was a gap in 2010, and only 3 in 2011. patent application. However, after several years of development, Huaxing Optoelectronics has strengthened its R&D strength in OLEDs. From 2012 to 2014, its patent applications have been increasing year by year. The number of patent applications filed in 2014 that have been published has been reached. 76 pieces. Different from Huaxing Optoelectronics, Sichuan Hongshi has not been affected by the company's initial application in the OLED patent application. From the application in 2010, the OLED patent application is evenly distributed in the past six years, except for the application volume in 2011. In addition to the pieces, the number of patent applications in other years has been stable at more than 40, and in 2013 reached 60.
Give play to its advantages, accelerate innovation
According to the search and analysis, OLED applicants in mainland China are mainly concentrated in listed companies and universities. Listed companies such as Ocean King and BOE rely on their strong capital strength to walk in front of universities in OLED R&D and patent distribution. It is worth mentioning that in 2008, Tsinghua University's OLED industrialization company Visionox ranked among the top in the applicant rankings, and Tsinghua University also relied on the industrialization company Visionox to strengthen its scientific research strength, and the two sides formed a combination of production, study and research. The model provides a path for the development of China's OLED industry.
In the past 20 years, China's OLED technology has flourished, and the number of related patent applications has gradually increased. Although the basic patents of OLED are still in the hands of American, English, Japanese and Korean applicants, Chinese enterprises have realized the broad development of OLED technology. The future and the importance of improving its international competitiveness.
At present, China's OLED is still in the initial stage of industrialization. Listed companies are the best among enterprises. On the one hand, they have stronger economic strength than non-listed companies and universities. Listed companies can concentrate on their own popularity and economic strength. The industry's advantageous resources, through purchase, research and development, etc., to make breakthroughs in technology as soon as possible; on the other hand, listed companies must also speed up the patent layout, relevant government departments should also further increase support to help enterprises enhance their international competitiveness . It is believed that with the development of China's economy, China's OLED listed companies will be able to become strong competitors in the OLED field with strong capital strength and continuous innovation.