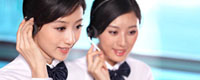 Name: Cassie.Huang
Tel: +86-755-27864416
Fax: +86-755-27864653
Mobile: 15989366182
E-mail: cassie@rxxdisplay.com
Skype: live:cassie_1191
QQ: 2850818618




Company News
>> BOE B11 is building a touch integrated flexible OLED production line 13th,March,2019
BOE is constantly adding to the flexible OLED field and is expected to take the opportunity to break into the Apple mobile phone supply chain. According to industry sources, BOE is building a touch-integrated flexible OLED production line in Mianyang.
Mianyang 6th generation flexible OLED production line (B11) is the second flexible OLED production line of BOE. BOE plans to use part of B11 as a touch-integrated production line and start mass production next year.
According to reports, BOE touch integrated flexible OLED is the same as Samsung Display's Y-OCTA. The touch-integrated flexible OLED realizes that the TSP attached to the outside in the past is implemented inside the OLED, so that the panel is thinner and lighter than the existing OLED. In particular, the cost is lower because the process is simplified.
Samsung acquired the technology before and was called "Y-OCTA" as a strategic product. The technology Samsung Display has just begun to be used only for Samsung smartphones to enhance the competitiveness of Samsung Electronics smartphones. The representative product of this technology commercialization is a double-curve screen mobile phone.
It is not clear how the BOE touch integrated flexible OLED is progressing. However, Huawei recently released the 5G folding screen mobile phone Huawei Mate X. The OLED folding screen is exclusively supplied by BOE. According to reports, BOE touch integrated flexible OLED production line has a certain level of technology, and can be mass-produced.
Industry experts expect that BOE will provide Apple with touch integrated flexible OLED. Apple is preparing to use Samsung's touch-integrated flexible OLED for the new iPhone. Apple has also been promoting the use of touch-integrated flexible OLEDs recently, and is expected to be adopted in 2020. In order to reduce its reliance on Samsung's Display Panel, Apple may include BOE Touch Integrated OLEDs in its supply chain.