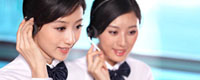 Name: Cassie.Huang
Tel: +86-755-27864416
Fax: +86-755-27864653
Mobile: 15989366182
E-mail: cassie@rxxdisplay.com
Skype: live:cassie_1191
QQ: 2850818618




Company News
>> LCD panel or into overcapacity OLED is a life-saving straw? 25th,March,2019
2016 CES has already come to an end in Las Vegas, USA. This international top consumer electronics show reveals to some extent the strategic deployment of the company next year. The most unexpected thing in this exhibition is that Samsung still has not launched a large-size OLED TV.
Samsung Electronics has launched an OLED TV using a Samsung display panel in 2012, but it was discontinued soon. Samsung announced that it would stop mass production of large-size OLED TV panels.
Samsung's consideration of mass production of OLED panels is from 4K to 8K to the hottest HDR of the CES industry this year. The LCD panel industry has been self-itaging and refreshing. The continuous technological innovation has kept the LCD panel industry still quite active. At the same time, Samsung's production of large-size OLED panels based on RGB technology is too difficult. It is difficult to find the current production level of LCD panels in a period of time.
However, the time left for Samsung is not much. As the production capacity of LCD panels in mainland China continues to increase, the profit margin of LCD panels has plummeted, and this trend is gradually expanding. In September last year, BOE announced the establishment of a new 8.5-generation production line in Fuzhou. In December, BOE's highest 10.5-generation line in Anhui also announced the start of construction. Huaxing Optoelectronics plans to invest in 11-generation LCD panel production lines.
According to the data of the first three quarters of 2015, mainland panel maker BOE has surpassed Taiwan's AUO for the first time in the first three quarters of this year, ranking fourth in the world. At present, the international two-strong pattern of Taiwan and South Korea has undergone a significant change. The number of mainland LCD panels has been catching up in terms of shipment volume and shipping area. Hon Hai's chairman, Guo Taiming, also recently made relevant remarks: "The mainland panel factory continues to expand production. If the mainland does not control it, it will oversupply."
With the substantial increase in the production capacity of LCD panels, the profit margins of Samsung Display and LGD will gradually shrink. In order to cope with this situation, LG has been desperate for large-size OLED panels, and wants to rely on technological innovation to get rid of the dilemma of price competition in LCD panels. Last November, LGD announced on Friday that it would invest more than 10 trillion won (about 8.7 billion US dollars) to build an OLED display manufacturing plant to meet the demand for such products.
In early 2015, Samsung Display announced plans to produce large-size panels for OLED TVs. However, it seems that Samsung monitors still produce LCD panels and produce small-sized AMOLED panels.