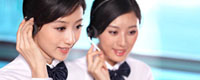 Name: Cassie.Huang
Tel: +86-755-27864416
Fax: +86-755-27864653
Mobile: 15989366182
E-mail: cassie@rxxdisplay.com
Skype: live:cassie_1191
QQ: 2850818618




Company News
>> BOE fight to stop investing in LCD panels and strive to OLED 20th,Feb,2017
As the largest liquid crystal panel manufacturer in mainland China, BOE Technology Group Co., Ltd. has stopped investing in new LCD panel projects, turning to OLED (organic light-emitting diode) panel industry to find more business opportunities.
Recently, BOE Chairman Wang Dongsheng interview with the news media, said: "I am worried that some low-level repeated investment, will affect the healthy development of our industry in October next year, Beijing Oriental 6-generation flexible AMOLED will be mass production, which is China's first, the world's second flexible AMOLED production line. Each investment, we have to meet the promotion of industrial upgrading and income to enhance the principle of the semiconductor display, we in principle, no longer invest in TFT-LCD production line, the future investment The focus is AMOLED and other new generation of display technology.
Before the production of OLED panel business is mainly South Korea LGD and Samsung. Today, Wang Dongsheng said the remarks, BOE in the upstream panel industry investment strategy has undergone major changes. BOE in the LCD panel industry defection, large-scale into the OLED industry, will make OLED panel supply more adequate, is bound to significantly enhance the downstream color TV manufacturers to produce OLED TV initiative, OLED TV market will usher in a faster development opportunity.
China's other LCD panel manufacturers are reluctant to give up the growth opportunities brought about by the OLED industry. Plans to invest a total of about 46.5 billion yuan Huaxing photoelectric 11th generation TFT-LCD and AMOLED new display device production line is expected in July 2019 formally reached production, in addition to the production of LCD panels, will also produce OLED display.
In recent years, China and the global LCD TV market as a whole malaise. TrendForce's photoelectric office WitsView latest report shows that in 2015 the global LCD TV total shipments of 215 million units, down 0.6%. Ovid cloud network (AVC) data show that 2016 in the first half of China's color TV market retail sales of 71 billion yuan, down 4.0%.
LCD TV market capacity in the shrinking environment, the color TV manufacturers to seek survival, naturally to another way. Skyworth, LG, Changhong, Konka and other domestic and international TV giant upgrade transition, OLED TV as an important breakthrough. OLED TV's self-luminous characteristics make it have two major advantages, one is good quality, the second is more healthy. Quality is good because the self-luminous characteristics of the TV screen with the ultimate black, high contrast, fast response, true color, wide viewing angle five natural advantages, to show the most real color; more healthy because the OLED self-luminous body spectrum does not contain Harmful to the human body blue light, can effectively prevent harmful blue light on the human eye damage, which for the long time with the TV audience is very useful.
OLED display technology is an important driving force for future display industry development. In 2015, OLED TV into the "first year of product launch", the product resolution from 2K (full HD) extended to 4K (ultra-high definition), the form extends from the plane to the surface, Ovid cloud data show that China's OLED TV market in 2015 Retail sales of 43,000 units, is expected in 2016 OLED TV retail sales will surge to 20 million units.
In China OLED TV market, Skyworth from the second half of last year began to take the lead in large-scale layout, in other manufacturers of OLED display technology hesitant time, Skyworth first mass production 4K OLED TV, launched several popular OLED TV. August 29, 2016, Skyworth in the launch of the world's first AR intelligent TV and Skyworth OLED organic TV new S9D. Skyworth S9D for the first time AR technology and television perfect combination of large screen, to achieve real-time virtual world and the real world interactive experience, guide people to re-gather to the TV big screen healthy family lifestyle. As the latest OLED TV products, S9D uses the latest generation of OLED screen, the screen thickness of only 4.7mm, combined with Dolby Vision display technology, and OLED self-luminous body with the quality of the performance complement each other.
OLED TV in China and the world, has entered the market in the popular period. China's color TV industry to the process of transition to high-end, more inseparable from the OLED TV upstream and downstream industry chain to participate. With BOE and other Chinese LCD panel makers to switch to OLED panel industry, OLED TV market growth will further accelerate the pace.