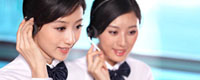 Name: Cassie.Huang
Tel: +86-755-27864416
Fax: +86-755-27864653
Mobile: 15989366182
E-mail: cassie@rxxdisplay.com
Skype: live:cassie_1191
QQ: 2850818618




Company News
>> 99999 yuan! Samsung released 8K QLED TV domestically: 99% of screens 21th,May,2020
On the evening of May 18th, Samsung released a full range of new TV products for the domestic market in 2020. The flagship is the QLED 8K flagship "Q950TS".
Samsung Q950TS supports high-end display technologies such as full array backlight, black panel, wide color gamut color rendering volume, adaptive image, etc., 7680 & times; 4320 8K resolution with more than 33 million pixels.
The Infinity Screen removes almost all the frame around the screen, the screen ratio is close to 99%, and the body thickness is only 15 mm.
99999 yuan! Samsung released 8K QLED TV domestically: 99% of screens
Two speakers are placed on each side, top and bottom of the screen, all of which are full-power audio systems, which can propagate sound in all directions, and support new OTS + (Object Tracking Sound +), Active Voice Amplifier AVA (Active Voice Amplifier) ) Two new technologies.
Audio and video tracking OTS + technology is based on AI artificial intelligence software system, which can make the change of sound and the change of the main body of the picture match more accurately.
Intelligent sound control technology can monitor environmental noise and automatically enhance the clarity of the sound.
It is equipped with a new generation of Samsung Quantum Dot 8K AI processor, supports upgraded AI image enhancement technology (AI Upscaling), analyzes and defines the attributes of each pixel through deep learning algorithms based on AI artificial neural network, and then creates and screens through textures The noise reduction and edge restoration are optimized pixel by pixel, so that ordinary video can also present an effect close to 8K image quality.
Samsung Q950TS QLED 8K 65-inch price is 49999 yuan, 75-inch price is 69999 yuan, 85-inch price is 99999 yuan, pre-sale from May 18 to June 1.
99999 yuan! Samsung released 8K QLED TV domestically: 99% of screens
99999 yuan! Samsung released 8K QLED TV domestically: 99% of screens
Also released are 4K QLED TV "Q80T", four-side slim bezel design, with decorative environmental screen mode +, support for full array direct-in backlight, HDR 12x, HDR10 +, also supports OTS +, AVA audio technology, internal large Paper bag quantum dot 4K TV can convert ordinary video into 4K effect.
The price of Q80T was not announced.