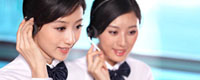 Name: Cassie.Huang
Tel: +86-755-27864416
Fax: +86-755-27864653
Mobile: 15989366182
E-mail: cassie@rxxdisplay.com
Skype: live:cassie_1191
QQ: 2850818618




Company News
>> With over one million bookings, can Samsung return to the Chinese market with a folding screen phone? 5th,Nov,2021
Compared with the folding screen products of Huawei and Xiaomi, Samsung's new generation of folding screen products have improved the hinge technology and screen, which greatly increases the durability and user experience.
Due to technological improvements and lower prices than the previous two generations of products, these two folding screen products have been welcomed by the global market, and their bookings in South Korea, the United States, and even the domestic market are extremely large.
For Samsung, this is rare good news. Samsung has been in decline for many years in China, and Samsung mobile phones have almost disappeared from the market. It hopes to reopen the Chinese market with this folding machine.
However, although there are more than one million bookings in China, folding screen mobile phones have not yet become popular in China.
According to many data institutions such as Counterpoint, the sales volume of folding screen mobile phones is expected to exceed 10 million units this year, but compared with the billions of billions in the entire smartphone market, the proportion is still less than 1%, and the software and hardware ecology of the folding screen is not perfect. . With Samsung alone, it is difficult to set off a craze for folding screens in China.
Therefore, it remains to be seen whether Samsung's two folding screen phones can take on the heavy responsibility of revitalizing the Chinese market.
Today, Samsung has put a big bet on folding screen products, and for this this year it also replaced the flagship product Note series released in the autumn with a folding model.
This risky measure currently seems to have achieved some victory, but in the future, Samsung wants to return to the Chinese market and consolidate the world's top smartphone shipments. It also needs to continuously improve the competitiveness of folding screen phones.
1. The folding screen market is full of smoke, which model is better?
In 2021, the foldable screen mobile phone market will be even more intense.
On September 1, Samsung officially released the Samsung Galaxy Z Fold3 5G in China, which is Samsung's third-generation folding screen mobile phone. In addition, Samsung also released a product that folds up and down-Samsung Galaxy Z Flip 5G.
In addition to Samsung, domestic mobile phone manufacturers have also joined the battlefield of folding screen phones this year.
At the beginning of this year, after Huawei released the third-generation folding screen mobile phone Huawei Mate X2, Xiaomi also released the first folding screen mobile phone Xiaomi MIX Fold, trying to make waves in the folding screen market. In addition, OPPO and vivo also reported that they will launch folding screen phones.
Originally, the main players in the folding screen market were Huawei and Samsung. These two were also the first manufacturers to launch folding screen mobile phones, and they have also iterated to the third generation of products. Xiaomi only launched its first folding screen mobile phone this year.