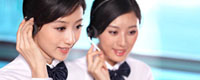 Name: Cassie.Huang
Tel: +86-755-27864416
Fax: +86-755-27864653
Mobile: 15989366182
E-mail: cassie@rxxdisplay.com
Skype: live:cassie_1191
QQ: 2850818618




Company News
>> BOE (BOE) made a strong appearance at the International Display Week, leading the industry with cutting-edge technologies in six major fields 26th,May,2022
On May 10, the world-renowned International Display Week (SID Display Week 2022), known as the "Oscars" of the display industry, kicked off in San Jose, USA. This grand event coincides with the 60th anniversary celebration of SID. As a leading enterprise in the global display field, BOE (BOE) brings ADS Pro, f-OLED, α-MLED three major display technology brands, a number of world premiere technology products, as well as Metaverse, Glasses-free 3D Three new-generation cutting-edge applications such as smart cockpit and SID are strongly returning to the SID offline exhibition, presenting an unparalleled technological feast to the global audience, leading the industry's technology vane in an all-round way, and opening a new chapter in the industry development of "display is everywhere".
BOE (BOE) unveiled at 2022 International Display Week
ADS Pro: Ultra-high refresh rate to enjoy the ultimate pleasure
As a high-end LCD display technology solution independently developed by BOE, ADS Pro has leading advantages such as ultra-high refresh rate, full viewing angle, hard screen touch, etc. This time BOE (BOE) has made a strong debut with a series of products with the highest refresh rate in the world , showing its technological leadership in the display field.
In the exhibition area, the world's highest 576Hz refresh rate 4K TV display product attracted the attention of many audiences on the spot. This product adopts BOE (BOE) self-developed screen and super frequency multiplier technology, which can achieve 3000:1 ultra-high contrast ratio, greatly improving The world's highest 500Hz+ refresh rate notebook display adopts the leading oxide TFT technology and fast-response liquid crystal technology, which can simultaneously achieve a 1ms ultra-fast response, bringing a dynamic and smear-free ultra-smooth experience. In addition, the audience can also experience a series of ultra-high refresh rate display products such as 8K TVs with the highest refresh rate of 288Hz in the world, monitors with the highest refresh rate of 500Hz in the world, and experience the vision brought by BOE's high-end liquid crystal display technology at close range. shock.